Welcome to the AG Soldier Front Wiki
This page is the Wiki for the game Soldier Front by aeriagames.com! Anything you need to know about the game can be found here!
Closing of PSF server
The Phillipine Soldier Front server has been shut down, sending all the PSF players to the US server. As of 4/22/2014, there are no ping limited rooms, however, there is rumor of something being done to accomodate these players.
Goings-on
The weapon system has been uprgraded! For details concerning the changes, please visit the page listed here.

Give a warm welcome to the "Soldier's Stipend" Free Loot Box! Go to Soldier Front VIA Ignite, and click on the Loot Box to get your free item! More details can be found here.
Spring Championship Cup 2014! Do you have what it takes? Find out here.
Latest Patch Notes
The latest patch for Soldier Front was released on 9/20/2013. This patch included a content update, adding the Skull PSG-1 and Phoenix M4A1 weapon bomb for AP, and the Nailgun weapon bomb for SP! Also added was the Apple M67 grenade, Pattaya T-Shirts, Umbrella Backpack, and the all new map Namsan!
Something missing?
Don't see what you're looking for? Send an e-mail to the admins at lucasgrathouse@yahoo.com!!! Or find me on the aeriagames forums!!! Username: lucasgrathouse
Latest activity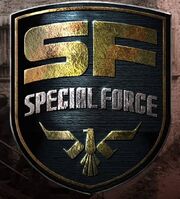 Community content is available under
CC-BY-SA
unless otherwise noted.